Join Us
Become an Impact100 Louisville Member
We are accepting members for 2023.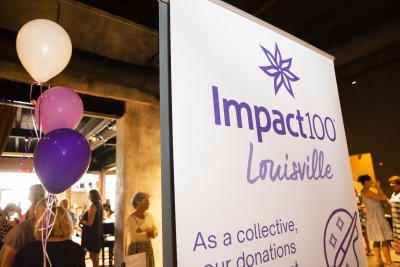 Impact100 Louisville is a group of women seeking to transform the lives of people in Jefferson County by funding transformational, high-impact projects through grants to local nonprofit (501(c)(3) organizations. The exact amount of funds available to award depends upon the number of women who join the organization in any given year.

Annual membership in Impact100 Louisville is $1000 - one woman + $1000 = one vote. 100 women donating $1000 each make it possible to award $100,000 to a worthy project of a local nonprofit organization. Members may be as active as they choose: potentially serving on a grant review committee or participating in one of our standing committees, helping to promote the organization or choosing only to vote at the annual meeting if being a member is enough! The membership deadline for each year is May 31.

We reached a membership base of 206 members in 2020 (our inaugural year) and we were able to award two grants! In 2022, we reached 446 members and will give four grants to the nonprofits in our community. Our goal is to continue to grow our membership so that we can continue to award multiple $100,000 grants in any given year. Please come to a membership event and learn how you can help us achieve that goal. By joining Impact100 Louisville, women can become an integral part of their community, network with other amazing women, and know that every dollar of their donation creates a high IMPACT grant that will change the lives of many in our community.

Ready to Become a Member?
We realize $1,000 is a "stop and think" gift.

For many members, $1,000 represents sacrifice and intentional budgeting to make a charitable gift of this size. The $1,000 "stop and think" amount is by design. The goal is for each member to feel fully invested in and connected to their giving, and the transformational grants that result from it.

If you'd like to join, please complete the online membership registration HERE. You can choose to pay for your membership fee with a credit card through PayPal, but please note there is a finance fee when you use a credit card. We ask that you pay this finance fee so that 100% of the $1,000 membership fee goes toward the grant awards. You also have the option to send in a check, with no finance fees, after you complete the online form.

Because Impact100 Louisville is a 100% volunteer-based organization, donations outside the membership fees help support operating expenses. If you wish to help Impact100 Louisville cover these operational expenses, please consider choosing the Member+ plan and adding an extra donation to the $1,000 membership fee.

Impact100 Louisville is a 501(c)(3) organization and therefore your contributions may be eligible as a tax deduction. Please consult your tax advisor.